Are you a software developer or a publisher, who develops software and distributes on third-party websites? If yes, have you ever thought about whether the software your users are getting is original or not? If you are one of those whose software is having even a moderate success, there's a chance that it could be modified by someone to trick your software users. If you have questions such as how to overcome such situations, Code Signing Certificate is one of the best solutions.
Let's see what a code signing certificate is, how it protects software and its advantages
What is a Code Signing Certificate?
Code Signing is one of the processes for digitally signing the executable files and scripts to confirm the identity of the software publisher and to assure that the code or the software has not been altered from the time it has been signed.
A Code Signing Certificate is the digital certificate which helps in protecting code, software, executables, and other files while transferring online. It contains all the information needed to identify an entity.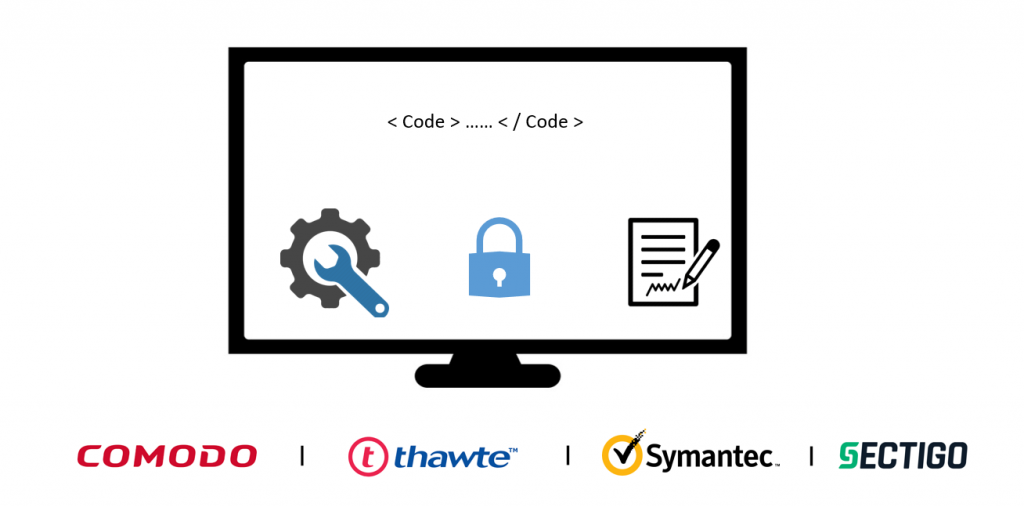 With the help of Code Signing Certificate provided from the trusted Certificate Authorities (CAs) such as Sectigo, Comodo, Thawte, developers sign their software which gives assurance to software users that the signed code or software which they are downloading is coming from a trusted source and has not been altered since its signed.
In other words, Code Signing Certificate helps in assuring the integrity of the software and prevent from downloading which is not original, as it invalidates the signature and notifies the users by showing warning sign if the code or software has been altered. Shortly, it offers two security protections, Integrity of the Code and Authentication of the software publisher or the distributor of the code.
Understand Code Signing Certificate in Details.
---
Advantages of Using Code Signing Certificate
Code Signing Certificate is like a digital "shrink-wrap" for assuring users that software is coming from a verified publisher and the integrity has not been compromised. Moreover, some of the advantages of using a Code Signing Certificate are:
Customer Confidence:
It boosts the confidence of your customer while protecting your users by giving assurance that the integrity of the code or software which they have downloaded has not been tampered or altered.
Authenticity:
It provides surety that the obtained file is coming from a trusted software publisher or an organization, which helps in preserving the reputation of the business.
Details of the Organization:
It displays Address, Name and type of the organization in the certificate which helps customers to identify and contact the author or publisher of the digitally signed code or software if any query or issue arise.
Compatibility:
It is compatible with all the major platforms such as Java, Authenticode, Adobe AIR, Mac OS, Office VBA
Unlimited Signing
Allows software developers and organization to sign an unlimited number of applications, software code, scripts.
---
Code Signing Certificate Providers:
As SSL/TLS Certificates are provided by the trusted Certificate Authorities (CAs), Code Signing Certificates are also offered by the same. Below are some of the globally known CAs who provides a Code Signing Certificate at a reasonable price and excellent support.
Thawte:
South Africa based Thawte founded by Mark Shuttleworth is one of the known Certificate Authority who has issued more than 945,000 SSL/TLS Certificate and Code Signing Certificate around the globe since 1995. As the SSL/TLS certificate is the core business of the Thawte, you can stay assured that you will get the robust authentication process and easy management for Code Signing Certificate as well.
Symantec:
If you are a software developer or a publisher, you might already know how important it is to sign software using Code Signing Certificate for assuring about your identity to users while avoiding warning messages. To win that trust and confidence of your users the globally trusted Certificate Authority, Symantec is one of the best options. It's a well-known brand dealing with several different web security products including SSL/TLS Certificate and one of them is also Code Signing Certificates.
Comodo:
Comodo, the world's largest and leading Certificate Authority (CA), with over 100000000 issued SSL/TLS certificates also deals with several different types of web security products and one of them from their big SSL family includes Code Signing Certificates. If you are looking to secure your software, applications, executable or any files, Comodo Code Signing Certificates is the best approach, which comes with a smooth issuing process and affordable price range.
Sectigo:
Sectigo / Formerly Comodo CA, one of the world's largest CA (Certificate Authority), with more than 12M active certificates in the market and sales & support team in more than 200 countries, is working with a sole motto to enable the security for the identity of the organization.
If you are a software developer or a publisher who distributes their software on the third-party websites, Code Signing Certificate provided by Sectigo is one of the best options which comes with other benefits like affordable price range, support from experts and easy processing.
Moreover, if you think the price is a major concern, reseller such as CodeSigningStore is one other option, from whom you can get the same certificate but at the much lower price range and all the other benefits like any other CA (Certificate Authority).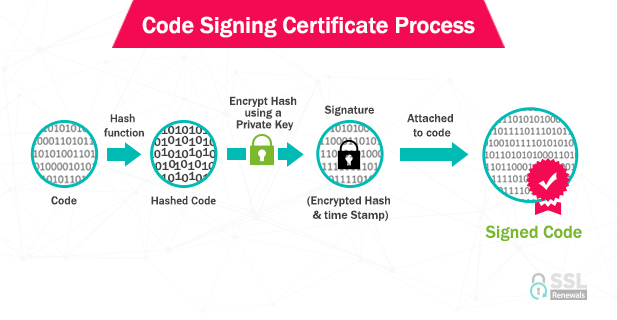 ---
Conclusion:
Unfortunately, free Code Signing Certificates are not available and another option Self Signed Code Signing Certificates are good enough for the testing purpose. So, if you are one of the software developers and publishers, Code Signing Certificate is one of the necessities especially if you are distributing your piece of software on third-party websites.
Here in this article, some of the globally known Certificate Authorities are mentioned from whom you can purchase Standard Code Signing Certificate (Organization Validated Code Signing Certificate) as well as Extended Validated (EV) Code Signing Certificate at an affordable price range with an excellent services such as support from the expert team and 30-day money back guarantee.