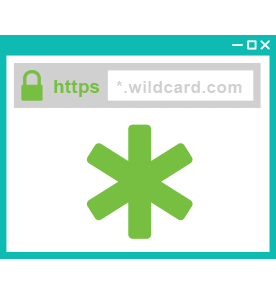 Wildcard SSL Certificates
Protect Unlimited Sub Domains with Cost Effective Wildcard SSL
Wildcard SSL Certificates provide a highly versatile encryption option for any company or organization that happens to have Sub-Domains accompanying its main domain. Simply enter *.yourdomain.com in the FQDN in field during the generation of your CSR and you now have the ability to secure your main domain and an unlimited number of Sub-Domains on a single certificate.
Now that's convenient!
One of the biggest upsides of using a Wildcard SSL Certificate is the convenience. Rather than managing multiple certificates – purchasing them all, installing them all, worrying about each one's renewal date – you can reduce administrative burdens (and SAVE MONEY) by simply securing your domain and all accompanying Sub-Domains on a single certificate. And if you ever add a Sub-Domain, simply re-issue the certificate and that's now covered too! How's that for convenience?