Get Your SSL Certificate Renewed in Minutes Using These Simple Renewal Process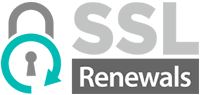 As we discussed before, we need SSL certificates for growing business and gaining customers' trust. Now comes the part to renew SSL certificate which we will talk about today. SSL certificates should be renewed prior to its expiration as after that you will not able to renew SSL Certificate. So you must be aware of when your SSL certificate is going to expire.
Here are the steps for your SSL Certificate Renewal:
Before 30 days of expiration, there will be a Renew link in the SSL Certificates menu next listed next to your SSL certificate(Login- > Manage Domains -> SSL Certificates). After clicking on that link, you will be redirected for checkout to pay for SSL Renewal.
After completing with payment, next, you need to activate the SSL Certificate. For that, ask your hosting provider company to generate CSR renewal for you. Also, ensure the type of web server installed on your hosting server. Now login into your account and click on Activate now link next to it in SSL Certificates menu to activate the renewal.
The activation of SSL Certificate Renewal is as easy as the activation of the new certificate. You need to give approval email address along with filling administrative contact information of your certificate. After you finish the activation process, the approval email will be delivered to your given email address. If you are not receiving the email to the given email address, please contact your hosting provider.
If you are getting an email, confirm the activation link of the SSL renewal, you will receive the signed certificate which you selected during the activation process. It may take about 2 hours to process the order of certificate from the certification authority. If a certificate is not received in 2 hours, please ask support center for help.
SSL Renewals is one of the most leading SSL Certificates providers globally and Platinum partner for Symantec (VeriSign), GeoTrust, Thawte, RapidSSL and Comodo. Secure your fully qualified domain name from here by getting SSL Certificate Renewal.
Related Post: