SSL Certificates have become a critical component for securing Govt. databases
Every day, the acceptance and accessibility of the Internet keeps reaching new horizons, and growing right there along with it are an ever-evolving group of cyber threats. Now is the time when web security and privacy should be taken more seriously than ever before—especially by governments. Gone are the days when government websites were used just for showcasing and informational purposes. With the rise of digitization around the world, these platforms have become increasingly critical to both citizens as well as for governments.
These websites deal with the private and confidential information of millions of people—enough to draw the attention of cybercriminals. After all, where else can you find so much delicate information at one place? Not only do these platforms contain highly sensitive data on millions of people, but they also include payment getaways for making transactions. As a result, safeguarding these platforms is a no-brainer. How can it be done? Encryption. And to employ encryption on websites, you need to install an SSL certificate on your website.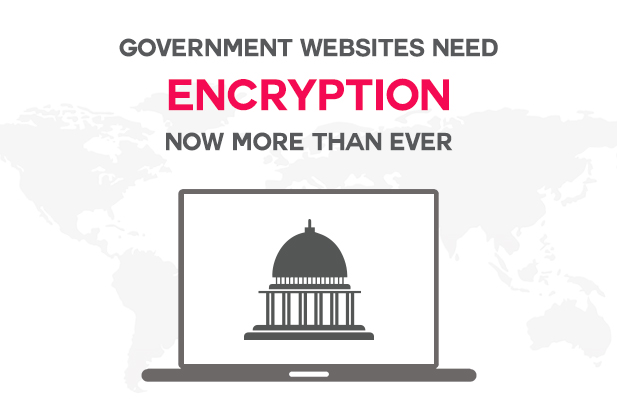 Government Websites: a common target for hackers
In 2015, the Obama administration directed all federal agencies to migrate their websites to HTTPS. This widely applauded move was necessary as far as the US government's cybersecurity is concerned. This move came on the heels of man-in-the-middle (MITM) attacks attempted in the past. In July 2015, a data theft from the Office of Personnel Management (OPM) of the US government saw data of around 21.5 million people get compromised. Another attack was targeted at the IRS and around 334,000 taxpayer records, including Social Security numbers, birth dates, and street addresses were stolen. In total, around 13 government data breach incidents took place in 2015 in the US. This is not a small number by any means and represents a very good reason to shift to HTTPS.
It would be wrong to assume that installing an SSL certificate will defend against every kind of cyber attack—it's just one part of a larger security solution. But that doesn't mean encryption isn't of immense importance as far as protecting sensitive information is concerned. Encryption secures data when it is on its way from a client's web browser to a website's server. This is executed by encoding any data sent by the user into an unreadable format through a specific algorithm. Thus, making it impossible for any hacker to intercept, read, and tamper with it.
'HTTPS Everywhere' mission is taking off
Much has been said about banning and curbing encryption in last few years but little has been done. San Bernardino attack in the US and London attack in the UK reignited the boring, predictable debate surrounding encryption. Again, nothing has been done and nothing will be. The thing is, encryption is absolutely essential and it is irreplaceable. Whether you like it or not—Encryption is coming. All the leading browsers have agreed to make encryption mandatory across the web by the end of 2017. So, even if you don't want your website to migrate to HTTPS, the web browsers will make you.
To counteract against any potential data breach, the US government has been pursuing its long-standing goal to enable HTTPS on all federal websites. Recently, the US Senate website was migrated from HTTP to HTTPS. Contrary to its statements of banning the encryption, the UK govt. too has decided to shift all its websites from HTTP to HTTPS. This is the thing you know—encryption is the ultimate way forward.
Below is the screenshot of the US Senate website. The padlock you see on the left-hand side of the address bar indicates that an SSL certificate has been installed on the website. Refer to the second image for more information on the SSL certificate.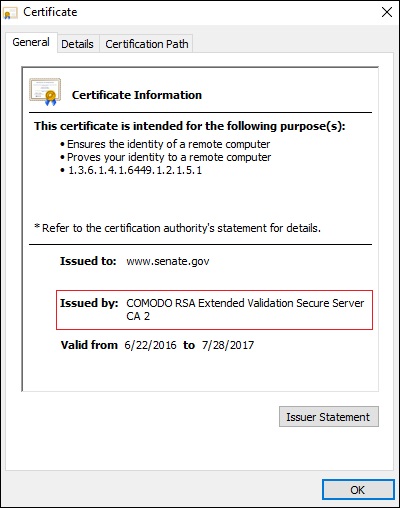 The image above indicates that the Senate websites use an extended validation (EV) SSL certificate.
Last Word
Whether it's filling an application form or paying a fine, these government websites are no longer just "websites." Instead, they have become dynamic platforms through which many tasks can be completed. These processes involve sending personal information such as names, addresses, social security numbers, banking details, etc. To avoid such discreet details coming into the hands of ill-intended people, installing advanced levels SSL certificates such as organization validation (OV) and extended validation (EV) SSL certificates are strongly recommended.
Related Post: