Everything you need to know about the practical difference between a free and a commercial SSL Certificate.
In an age when the number of hacking attempts and fraudulent activities is growing with each passing day, website owners and online users have become much more concerned about their security. As a result, having an SSL certificate installed has become a prerequisite for any website. Not only do SSL certificates serve as an invaluable weapon for web security, but they can also give you a helping hand to boost your search engine rankings.
As you probably know, there are two types of SSL certificate. The first one is 'Free SSL Certificate', which as the name suggests is available for free. The other one which is paid is simply known as 'SSL Certificate'. Let's have a closer look at both.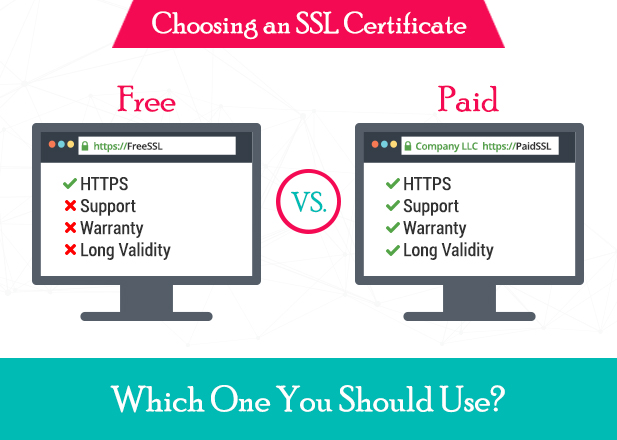 What is a Free SSL Certificate?
As the name implies, these certificates don't have a price tag attached to them. The purpose of making an SSL certificate available free of cost was to make access to HTTPS available for all websites.
Free SSL certificates fit into two categories. 'Self-Signed Certificates' are the ones in which there is no need for any Certificate Authority to sign them. They are signed by the issuer him/herself. On the other hand, the second type of free SSL certificate available in the market is signed by a Certificate Authorities (CA). As far as the level of encryption is concerned, a free SSL certificate provides the same level of encryption as the paid ones.
Paid SSL Certificates
To equip a website with these certificates, one must pay for it. A paid certificate is issued and signed by a trustworthy certificate authority (CA). You either get it directly from the Certificate Authority's website or you can purchase it from 3rd party entities called 'Resellers'.
As far as the level of encryption is concerned, a free SSL certificate provides the same level of encryption as a paid one. Now you must be wondering, 'why should I pay for the same certificate when you can get it for free?'
Well, there are some major differences between the two.
Key Differences Between Free SSL and Paid SSL
Type of SSL Certificate
Free SSL certificates only come with a Domain Validation (DV) option. DV certificates are used only for providing a basic level of authentication. Usually, they are used for platforms such as small websites and blogs. Free SSL certificates don't have the provision for Organization Validation (OV) and Extended Validation (EV) certificates. Whereas the paid SSL certificates do come with OV & EV options, which are absolutely necessary for protecting business websites.
Level of Validation
When it comes to verifying a website owner's business details before issuing a free certificate, CA does not validate anything apart from the identity of the website owner. While in the case of paid SSL certificates, verification of the identity of the website owner is a must before issuing the certificate to the site owner and in the case of OV & EV certificates, in-depth verification of the business is carried out by the certificate authority (CA).
Validity Period
Free SSL certificates provided by popular CAs are issued for 30-90 days. As a result, the website proprietor must renew the certificate every 30-90 days. In the case of paid certificates, they can be issued for a period of 1-2 years.
Support
The certificate authorities (CAs) and resellers of paid certificates are committed to providing round the clock support to their customers. Those customers get to choose whichever type of support they want, be whether its chat, email or call. On the other hand, free CA's don't assist their customers with such remarkable support because they can't afford to. If you need help with an issue regarding free SSL, you're going to have sifted through a bunch of old forum posts to find it.
Level of Trust
As mentioned earlier, the free certificates assist with domain level validation only. If one wants to get OV and EV certificates, he/she has no option but to go with paid SSL certificates. With OV & EV certificates comes visual indicators such as the business name in URL and Certificate information and better site seals. Whereas, free SSL certificates don't deliver such privileges.
Warranty
With a free SSL certificate, if anything goes wrong on the CA's end – like, a catastrophic failure of their PKI for instance – you are completely out of luck. Paid SSL certificates don't have this issue, because they come backed by warranties that pay out anywhere between 10 grand and 1.75 mils.
Which SSL/TLS Certificate is Ideal for E-commerce Websites?
Trust plays a vital role in any relationship, and E-commerce Websites are no different. No one would like to give out their sensitive information like credit card number or any other if it lacks trust. Legit trusted websites show visible site security which can be recognized easily by end users.
Go through any survey or look at any other information. You will find that paid SSL/TLS Certificates, i.e., Organization Validated (OV) or Extended Validated (EV) from legit Certificate Authorities carry out the strict process of in-depth verification of the organization. It also offers visible trust indicators like site security seal, the name of the organization on the address bar of web-browser to make users feel safe & secured to share their payment information which is not present in free SSL Certificates.
Paid SSL/TLS Certificates are like an Investment
Branded SSL/TLS Certificates comes with 24×7 technical team support which makes it an ideal choice for an online business no matter what's its size is. We SSL Renewals, are the authorized reseller of globally recognized Certificate Authorities like Comodo, RapidSSL, GeoTrust, Thawte, GlobalSign, and Digicert/Symantec. SSL Renewals is one of the reputable resellers in SSL industry for offering the most trusted and wide range of SSL/TLS Certificates with up to 85% discount price.
Check Out Our Low-Cost Paid SSL Certificates
| SSL Brands | Vendor Price | Our Price | Server License | |
| --- | --- | --- | --- | --- |
| RapidSSL | $138/year | $12.42/year | Unlimited | Buy Now |
| Comodo Positive SSL | $98/year | $13.23/year | Unlimited | Buy Now |
| Thawte SSL123 | $259/year | $41.72/year | Unlimited | Buy Now |
| Sectigo SSL Certificate | $199.90/year | $55.97/year | Unlimited | Buy Now |
| GeoTrust QuickSSL Premium | $261/year | $62.58/year | Unlimited | Buy Now |
Conclusion
Today, web security has become a matter of 'No Compromise' and SSL certificates offer a great helping hand to site owners. There is no denying that free SSL certificates represent a great option for many, but as discussed above, they come with constraints. They are an ideal choice for someone who wants to secure his/her blog or even a small website.
But when it comes to real business, there is not much to think about, is there? If the free SSL certificates were appropriate then all the leading e-commerce websites would be using them, right? But they don't and there are plenty of reasons for it. Paid SSL certificates can help accelerate conversion rates on websites by implanting an element of trust in the customer's mind which ultimately escalates revenues. Although you must pay a bit for it up front, you will surely savor the fruits later. After all, no good thing comes for free…right?
Related Post: