The Most Popular SSL for Quick Assurance & High Level of Security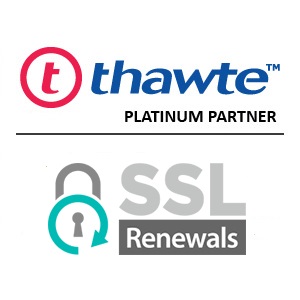 Internet security is the primary concern for anyone dealing with e-commerce transactions. Thawte SSL123 Certificate is one of the best options: as a domain-validation (DV) certificate, it takes less time for issuance to rapidly enable secured connections to your web server. This SSL Certificate offers encryption up to 256-bit for intranets, email servers, and other web-based programs that are not likely targets for phishing or scams (in which case EV would be recommended). An SSL123 certificate comes with immediate domain validation, the Thawte Trust Seal, absolutely free reissues, and 30-day money back guarantees.
Thawte SSL123 is an entry level certificate which is capable of providing industry standard encryption, 256-bit or 128-bit (depending on the user's browser, operating system, etc.). It's the perfect choice for people who need a high-quality SSL Certificate in a few minutes with 256-bit encryption, at an affordable price and without any paperwork.
You can get assurance with a Thawte SSL123 certificate that a website is certified and that the enterprise has accepted the purchase of the certificate. With this encryption and seal, the visitors are safe and feel that the private or confidential information they are sharing with your website is highly secured. That, in turn, helps to build online trust and confidence in visitors and customers.
Thawte SSL 123 Certificates are developed for securing a single domain on intranets and internal servers with domain validation. They are usually available within a day or less, have over 99% browser compatibility, and service for Online Certificate Status Method (OCSP) that browsers use to analyze a certificate's status. With this certificate, 128-bit or 256-bit encryption is offered in most browsers.
Here are some benefits of getting Thawte SSL123 WebServer Certificate:
It creates a secure, private connection for intranets, mail and FTP machines, and other programs, with issuance in about 10 minutes.
You can easily get protection for the private details exchanged during online transactions or communications, with a high level of encryption.
You can save money and time by purchasing the certificates for 2 years
Automated 2-step validation without any paperwork
The certificate is recognized by 99% of browsers
It includes a free site seal
Thawte SSL123 is right for customers who are in need of an SSL certificate issued fast. A cost-effective SSL certificate is issued in minutes, including the Thawte seal to promote your security. Also, note that SSL123 certificates are now available with Internationalized Domain Names.
SSLRenewals offers Thawte SSL Certificates at very less affordable prices from Authorized Platinum partners with VeriSign, GeoTrust, Thawte, and RapidSSL. Renew Thawte SSL123 certificate from here and get an additional 64% discounts.
Related Post: