Symantec Seal-in-Search: The most reputed trust seal on the internet
What do e-commerce websites, social media websites, blogs, and business websites all have in common? They all crave CLICKS. They all want to attract the attention of as many users as possible.
But, how do you get those precious clicks? Obviously, it starts with building your reputation on the internet. It doesn't happen overnight (sometimes it does!), it takes time. However, that doesn't mean that you can't speed up the process if you employ the right tactics and use proper tools.
When it comes to doing business online, the first and the most fundamental element is 'Trust.' Why should someone trust you in the first place when they haven't even heard about you—let alone visit your website. Granted, there are many factors that contribute to a trustworthy website. But what if you could show users that your website has been authenticated by the most trusted name on the internet? Sounds good, doesn't it? Well, that is exactly what Symantec Seal-in-Search does for you. But, before getting to how Symantec Seal-in-Search can help you grow, let's first understand what it is and what it does.
What is Symantec Seal-in-Search?
How do you differentiate your website from millions of other search results? Well, you secure your website using Symantec SSL certificates. Symantec Seal-in-Search is automatically enabled if the website has Symantec SSL certificates. One of the most recognizable trust seals on the internet, the Norton Secured seal, is placed beside your website on the search engine results page (SERP). And that can be a highly influential factor in the age of cut-throat competition.
A survey conducted by the Baymard Institute demonstrates that the Norton Secured seal is the most well-known trust mark on the internet—and by a wide margin.
Benefits of Symantec Seal-in-Search
Customer Trust: If you have an online business, there aren't many better tools to boost your reputation. The Norton Secured seal indicates that your organization is legitimate, thereby encouraging users to trust you. Even if you only have a website or a small blog, it showcases how seriously you take it.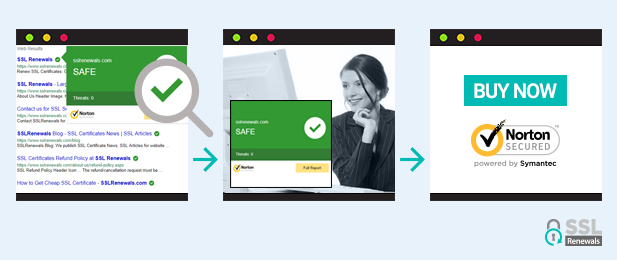 More Clicks: Recognizing the Norton Secured seal, potential customers are bound to feel more comfortable, which will boost traffic.
Higher Conversion Rates & More Business: Let's face it, nobody wants to do business with a shady company. But if you have the trust-mark of Symantec behind you, it assuages any fears and doubts and has even been proven to boost conversions. Who doesn't want that?
How to see Symantec Seal-in-Search enabled websites?
To see the Norton Secured seal in your search results, you must install a plugin provided by Symantec. On installing this plugin, all the search results are displayed as shown in the below image: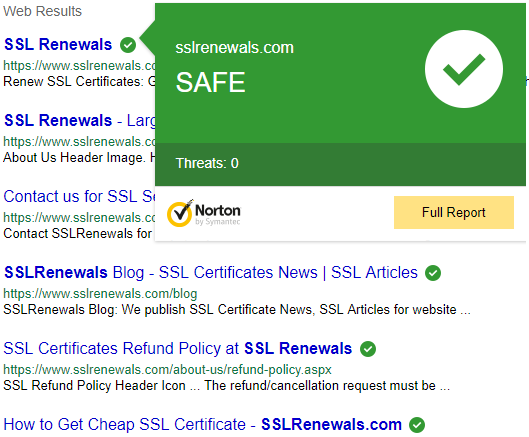 You can download the plugin here.
Related Post: